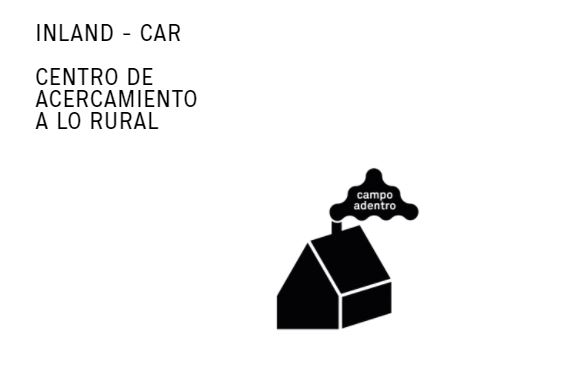 INLAND is a platform that links territory, culture and social change. It develops different lines of action on a local and international scale including hosting programming Study Groups, coordinating artistic interventions in more than 22 villages, or impulsing the "Nuevo Jardín de Dalias", in the Matadero's "El Solar" since 2013. INLAND functions as a collective and as a para-institution that initiates on-site collaborations centred on territory, designing economies and communities-through-practice as a foundation for the regeneration of a social culture and rural revitalization.
INLAND offers an open inclusive platform for the research and practice of artists, farmers and specialists and non specialists from a range of disciplines. The knowledge generated from this platform is exchanged to wider society in a variety of ways including public talks, meals, exhibitions, symposiums and publications.
INLAND publishes books, produces cheese, hosts exhibitions, lends counsel to the European Commission, organizes a pastoral movement in opposition to the dominant agrarian politics and has recovered an abandoned hamlet for the collective agrarian and artistic production.

INLAND grew out of the practice of artist Fernando Garcia Dory and his 2004 work Shepherds School. Initiated in the Northern Spanish mountains this particular project has now also developed into the mountain ranges surrounding Madrid. The programme offers educational training both theoretical and practical with a range of experts to young people from urban contexts interested in learning more about shepherding, a declining but vital tradition for sustaining biodiversity.

INLAND was established in 2010 and since has been inviting and financing artists and specialists from different disciplines to immerse themselves and produce work in various parts of Spain that represent paradigmatic cases of the current rural environment and its challenges. In each case the artists or specialist works with people from the local communities, which in some instances have been the head of an artisanal fishing community in Galicia or a farmer working in the cereal steppes of Tierra de Campos. The aim is to create a collaborative, site-specific and processual work, where the analysis and resulting ideas are imbedded in the rural reality and contextualised for larger audiences through their connections to the urban environment.

INLAND produces programmes such as New Curriculum, which is a multidisciplinary knowledge exchange program between art, farmers and agroecology. A committee of experts designed the content of a new curriculum, which is expanded and shared with various groups of students, farmers and herdsmen at our Art and Agroecology Centre in northern Spain.

In 2018 INLAND established CAR (Centre for Approaching the Rural ), with headquarters in Madrid. It is an open, dynamic and inclusive space where all of Inland's labor is collected, made visible and where urban creative and social processes are born. It's a space that combines investigation, training and cultural production through different lines of action, from a Documentation Centre and canteen to a Self-Publishing Workshop.