There is a lot of darkness in our world. There is a need for change. What can bring hope is that there are already many individuals, organizations and networks that are realizing and spreading change. Oftentimes these individuals, and initiatives, are not known by people that are not affiliated with alternative networks. With great compassion, it is our intention that through giving individuals, that are leading regenerative lives, a space to tell their stories, there is potential to  provide direction to other people that are looking to navigate out of the darkness and into the light. We are calling these individuals 'Live Human Signposts'.  
In a 2013 interview [1][2] the civil rights activist Vincent Harding described a situation where he was talking to a young man from the USA that had resorted to selling drugs for his livelihood, the reason the young man gave him for this career choice was "the fact that he, like many other young people, were operating in a situation where they felt it was just very, very dark all around them." The young man went on to explain that what young people needed were 'Live Human Signposts'. These signposts are real, live, people sharing their journeys with the intention of giving light for people to find themselves in the darkness. Harding described that Human Signposts "open up possibilities that other people can't see in any other way except seeing it through human beings who care about them".   
This series uses storytelling as a medium for sharing lived experience and wisdom with the intention of inviting conversation, imagination, compassion and inspiration. The people showcased in this series are people that have taken alternative paths, away from the mainstream that is becoming increasingly disconnecting and violent. 
There is no moral to these stories. They are shared to be received and interpreted based on the unique experiences of each person that is reading/listening to them. We welcome multiple perspectives and hope that these stories ignite conversations and connections. 
Live Human Signposts Series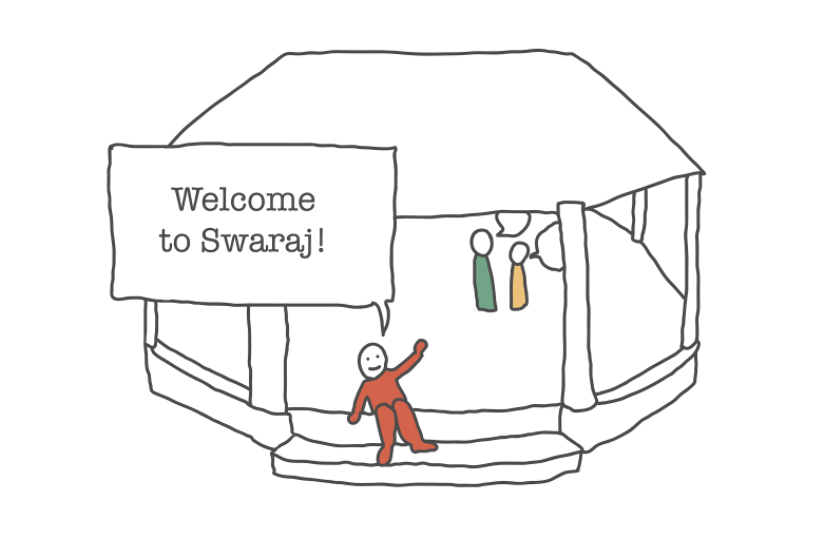 In our first series, we will be showcasing four 'Live Human Signposts' that dropped out of the mainstream and pursued alternative forms of education, which brought each of them, in their own unique journeys, to Swaraj University, in Rajasthan India.
Daniel Rudolph (initiator and author) is interested in exploring alternative, experiential learning opportunities for people of all ages. He is passionate about forming community, and building public spaces for meaningful, transformational gathering. He spends a lot of his time learning juggling and facilitating gatherings. He also enjoys writing and sharing poetry. Dan is currently in an apprenticeship in Vermont at the MAPLE Monastic Academy.
Pia Janzen (illustrator) is excited to visually support projects that inspire us to question and reimagine how we as humans relate to each other and our surroundings. She loves painting people, making music, eating, oceans and being around animals and she is passionate about working towards a more sustainable, liberating and authentic way of being.
Sierra Allen (editor) is a recovering individualist, spiritual forager, storytelling apprentice, unschooler, rock climber, and youth advocate. Sierra is a co-creator of EDiT – Education in Transformation and audiovisual editor and weaver with the Ecoversities Alliance.