The annual Indian Multiversities Alliance Gathering was held at Kanha Shanti Vanam Hyderabad, from 17th August to 20th August, 2023. We were hosted by our new friends at Heartfulness Centre at Kanha. Over the four days, we shared our work together, discussed ideas for strengthening the Alliance, planned the next steps for collaborative projects, and also met and exchanged our experiences and learned from the wisdom of interesting community leaders.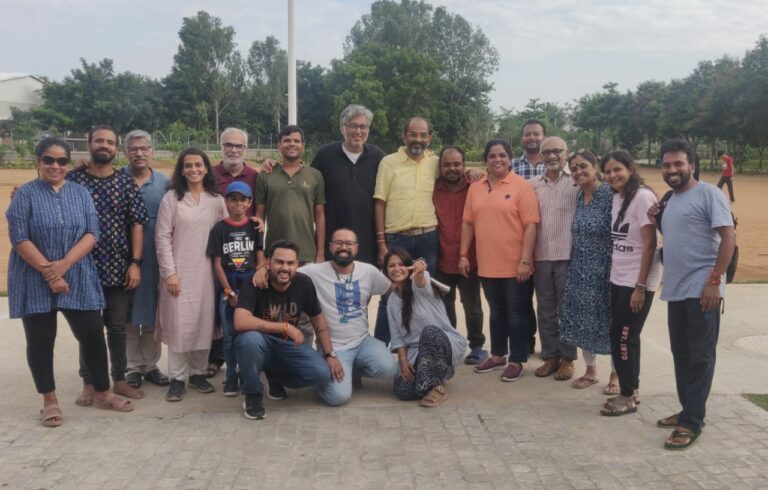 The Heartfulness Centre is spread over 1500 acres and is an ideal place to meditate and reflect on one's life and choices.  We hosted 70 participants in the gathering who were running ecoversities projects which were in various stages of development. This year, many new partners who had joined the Alliance were present and their participation was an encouraging sign for the whole collective. We began with our Introduction which gave an insight about the locations IMA had reached. The participants covered the entire country ranging from Himalaya region to Punjab, Delhi, Udaipur, Bhopal, Jamnagar, Baroda, Pune, Nashik, Mumbai, Nagpur, Hyderabad, Goa, Bangalore, Coimbatore, Calicut, Ranchi and Auroville. Participants also spent time in triads to share their personal journey which was a unique method to know the personal journey of the other. Sometimes, you know a person for a long time yet there are many aspects of the person that are still unknown. I discovered and connected with the vulnerability of a person I had known for many years but never knew the rich and tender moments of various intimate relationships the person had experienced in his life which had added to his wisdom and beauty. It touched me deeply and made me realise the vagaries and dimensions of relationships and how each one contributes to making life rich, colourful and meaningful
The visit to understand the Hearfullness Institute was a journey into the world of meditation. The aim of the Institute is to promote simple practice of meditation that connects each one of us to the light and love in our hearts. We enjoyed the tour of the centre with its various functions from running a school, to teaching mediation and yoga courses, and offering workshops for the youth on career guidance.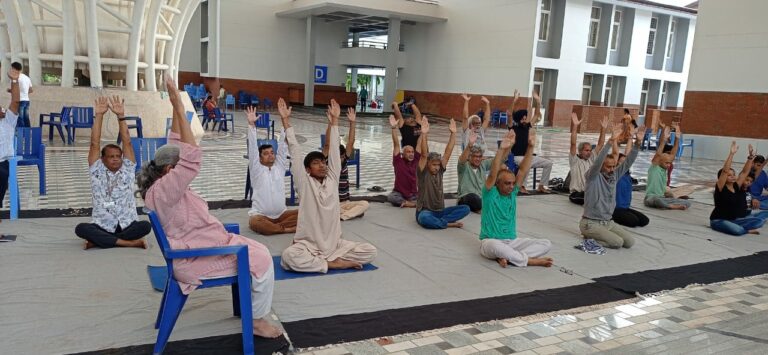 The four days were spent in a friendly and informal manner navigating through different aspects of this Alliance. In the beginning, we spent lot of time in discussing the idea and the mission of the Alliance which was about creating space to discuss ways to strengthen modes of learning which are organic, humane and contributed towards making life meaningful and just. It was also emphasised that in the industrialised world driven by Corporate agendas and profit-motives how could we find courage, ideas and innovation to make higher education relevant to existing times and context of the learners. So many of the partners were experimenting with education programmes that bringing them together and offering them space to share their work with thoughtful peers and to get mentoring support was critical to IMA's mission in India. Mentoring too need not be couched in formal structures. Here, there were so many natural spaces that conversations amongst members flowed naturally. I observed that it was easy to share my experiences – be it of facilitation, or parenting or leadership with many young and not so young. I too got into dialogue and became a curious learner when listening to the rich experience of others. The line got blurred between mentors and mentee, and that is the vibrancy of a IMA gathering!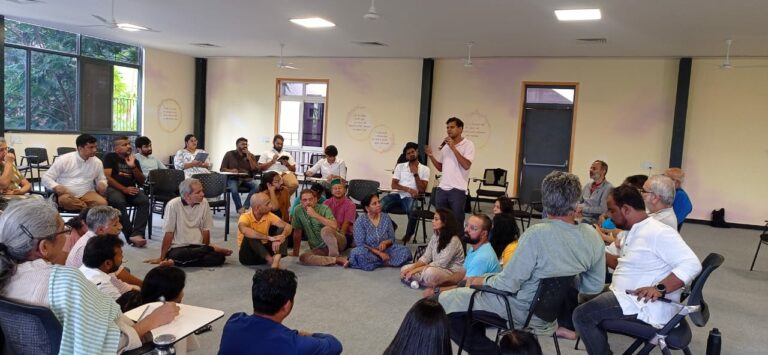 The rest of the days were spent in discussing innovative ideas that members shared. Some of the innovative educational experiments were around Alivehoods Careers that offered alternative ways to earn a living with dignity and passion, reconnecting with sacred rituals in Sacred-versity, Farmversity about organic farming, Experiments with Jail inmates of Udaipur and their creativity, from experiences of death in Death-versity, issues that male leaders face about masculinity and privilege in Mens-versity.  We also spoke about the Germinator programme which encouraged members to seek small funding for their projects and interacted with different projects who had received germinators support.  The discussions were animated and free-flowing interspersed with lively games and dance to weave in body and heart wisdom. For me, one of the interesting sessions was on Movement meditation which was facilitated by Sheetal bhai who had long experience in hosting such meditations. We were encouraged to chant a prayer and move and acknowledge the presence of the other who came in our contact. It inspired members to think deeply about themselves, about nature and the divine connection. For the first time in my life, I felt touched and got drawn into the meditative space, something had shifted in myself regarding such informal sessions. I got connected to my inner being, and when I bowed to the person who was present before me, a sacred thread of connection enveloped us in its embrace. It was truly magical!
 Another interesting session was about understanding the functioning of the Ecoversities Alliance and IMA's role and relationship with it. The IMA is an informal volunteer network with each member engaged in some form of deepening higher education process amongst the learners. Since the IMA was growing and had many partner-members, it was governed by a small committee of volunteers. The Steering Committee took decisions on members' behalf about organising new gatherings, hosting events, admitting new members, sharing information, collaboration etc. There was a small yearly membership cost as well which it was hoped would sustain the network in the future or at least bear a few expenses which the IMA usually incurred. A new set of groups were formed to help the Steering committee to manage the IMA affairs. The ideas of the new groups were based on our past experiences of managing the IMA.  The new Service Groups were as follows — Communications and Social Media group. Annual Gathering organisation group, Fund-raising Group, Secret Angel Group. Members volunteered to join the group. Each group promised to work on the objectives and working agreements of their own groups.
The last session was on ideas for new projects which would be for a year. In small groups members discussed new ideas and later shared it with all the members. Some of the ideas were: collection of inspiring stories, offers for internships, a directory of resources and mentors, a marketplace and currency for IMA, an IMA manifesto.
As a parting exercise, members met and tied a sacred thread on each other's hands as a mark of friendship and connection. It was an emotional moment but the thread became a symbol of comradeship, bond and possibilities for the future. Many were grateful that the Ecoversities Alliance existed and wanted more events to be organised regularly.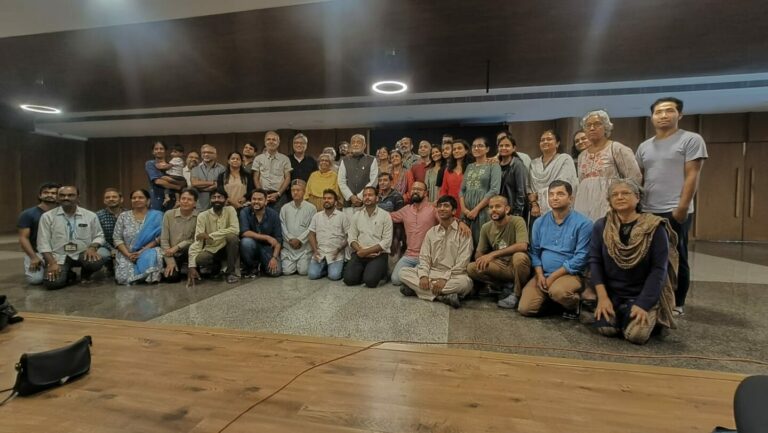 "It was wonderful attending this gathering. Here I could see the light at the other side of the tunnel and there are companions who walk through the path with me and there are people on the other side who are welcoming".
"I feel an interesting question to explore is - What is at the very root of learning and why do humans find it so difficult to learn..Openness to learn is easily the most precious human gift and yet the most rare".
"I have been associated with IMA for some time. I did not attend any gathering till now, thinking "oh, one more type. This time I attended IMA meet to understand what is IMA. Earlier my perception was, just a group, now I perceive it as a community. And this changed perception is powerful. Meeting people, knowing them in person and connecting was a step to understand the community. It is not about the project each one of us are engaged in, but is about connecting with each other. For me the open discussion on the role of individual organisations was enriching. Looking forward to be associated with IMA with the Seva (service) hat".
"Adi, my son and I were on this unschooling journey on our own, and it's so encouraging to meet so many people on their alternate paths. This meeting not only strengthens our belief but also gives us a family to learn from. It was so easy to connect with people; it felt like we've known everyone for ages. I can only guess what can result when these forces are combined. I am taking so many stories back; my desire to uncover alternate stories and explore different spaces is now a mission".
The Gathering was truly remarkable. What stood out to me was its exceptional level of focus, particularly in the context of open sessions. The event provided unparalleled clarity within organizational structures, empowering individuals to take ownership of their roles and responsibilities. It was a beautiful experience, marked by an inspiring sense of personal accountability and self-driven action.
"All IMA/Shikshantar meetups hold this magical power of connecting participants with the child within them and this meetup was no exception. Looking back, we can't remember any moment when we were not singing, dancing, holding hands, playing games, hugging and laughing with each other. The camaraderie and deep bonding that we created in person will be the foundation stone for online collaboration round the year."
The IMA WhatsApp group is buzzing with unprecedented activities post the IMA gathering. There are invitations for online sessions which John D'souza has taken the lead to host it to take up issues that were raised in the gathering. Members are sharing ideas, inviting others to participate in their projects, raising questions, sharing resources, and most important coming forward and contributing towards IMA membership. All this augurs well for the IMA growth and its mission.
Special thanks to Nitin Paranjpe for compilating the text, to Dholly Rateshwar and Harsh Wardhan for the photographies, and full gratitude to all the Indian Multiversities Alliance folks and grandmothers who made this gathering possible