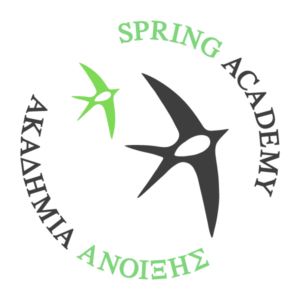 Spring Academy was born in 2015 out of research into educational reform in Greece and anywhere where educational choice is limited. This research was, and continues to be, in collaboration with educational reform experts and organisations from all over the world.
The learning that takes place is:
embodied, the body is fully involved
ecological, founded in ecological living principles
combinational, combining different approaches and remains in evolution according to cultural and individual specifics. Democratic Education, Agile learning and Self directed learning are our main guidelines
interdisciplinary, allowing interaction, information and evolution between disciplines
hybrid, a combination of in person and online learning
inclusive, equally accessible to the elderly, people with chronic diseases and mobility difficulties, non-neurotypical people and to individuals and groups who have been hurt, expelled, marginalized such as refugees, unaccompanied minors, the poor, minorities, survivors.
intergenerational, restoring the coexistence of generations and different ages within the same generation. Reconnecting, within the learning environment, those who are usually separated into age groups.
multi-cultural and multi-lingual, learning across borders. Usually specific, limited groups of people exchange with other specific,
limited groups of people. These relational limitations open by bringing down barriers that exist in culture, language, geography, economy, society, disciplines, physical/mental conditions and age.
trauma informed, consent based and free of adultist models
We run annual, monthly and weekly events of various durations, in person, online and hybrid, with facilitators of all ages.
Some indicative areas of learning are education evolution, languages, parenting, birth care, art, crafts, sciences, communication, economic/social innovation, sustainability, self-sufficiency in energy, food, healing and shelter, seed conservation, eco-construction, sport and wellbeing, mountain and rock climbing, martial arts.
Spring Academy promotes and supports the right to choose, to differ, tο self-direct and self-determine in life as a whole for all ages.
Our mission is
to bring the responsibility and act of learning from and with each other into the community.
to normalise learning communities as an option by and for all ages , which entails decision-making power for those under 18.
for learning environments which assure the inviolability of freedom of conscience to be available to all who wish to use them.
for this approach to learning to be legitimised, socially integrated and publicly available.
Our strategy is
creating and connecting agile communities for learning which support and reinforce each other while maintaining their autonomy
expanding the potential of our prototype legal structure through its use by these communities independently and interconnectedly, to safeguard and propel freedom of choice in learning
innovative use of new technology for learning; combining digital and actual localities to overcome restrictions in collaboration and coexistence beyond borders.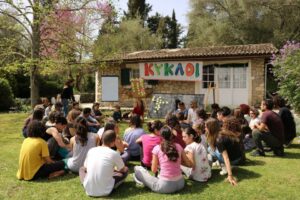 We are evolving a legal strategy towards a transnational association, creating a critical mass capable of bringing about political/legislative/social reform towards securing the right to choice in learning.
We are home to families practicing collective civil disobedience in terms of school attendance (attending state approved school is compulsory in Greece with no alternative options).