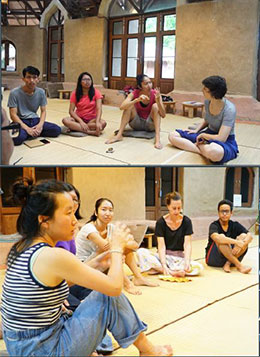 By: Avinash Neve
I, Avinash Neve from Abhivaykti Media for Development, Nashik participated
in the 'Awakening Leadership Training Program' (ALT) at Bangkok, Thailand. I am very grateful to the both persons and organisation; one is Nitin Paranjape from Abhivaytkti and second is Manish Jain from, Shikshantar, Udaipur those who are basically my supporters who gave me, opportunity to participate in the ALT program at Bangkok. Ecoversity Network has been initiated to create such opportunity from Network organisations for exchange and deepening learning from each other, and also develop friendships. I am also very thankful to ALT program team who involved me in their planning meetings and included me as a co-facilitator. 
This Awakening Leadership Training Program's schedules were basically from 3rd September 2019 to 3rd February 2020. However, as I had reached few days ago I got an opportunity to participate in the preparatory opening ceremony and first two modules. I am participated meetings and in the Inauguration Ceremony on 3rd September 2019. Building a Community of Good Friend 4-5 September 2019 and The first few sessions and Modules were on Emerging Worldview, Self-discovery and Healing (EDE worldview Dimension) The first module on, Slow is Beautiful: Ecological Wisdom from Asian Traditions, from 6-9 September 2019 and the second module on Paradigm Shift and Emerging Cultural Values during 12-16 September 2019. Both the above mentioned program were mostly held at the Wongsanit Asram, Bangkok and later two days at INEB office, Bangkok.
My journey from 28th August 2019 to 19th September 2019.
My reflections and Learning exchange in Thailand.
Overviews about Awakening Leadership Training Program –
The multi-dimensional crises human beings are facing in the contemporary world demand a fundamental change of the mindset that creates them. Humans and other living beings have been facing serious crises across the globe for decades: climate change, natural disasters, ecological destruction, violent conflicts between nations and groups, poverty and hunger, loneliness and meaninglessness in modern life, etc. We need to understand and holistically analyze the root causes of these crises at macro and micro levels. In this workshops will cover cultural issues and paradigm shifts, mindfulness practice, self-discovery through healing of internal wounds. Meditation, body movement practices and mindfulness will be part of the daily schedule to enhance selfcultivation as an important part of new paradigm education.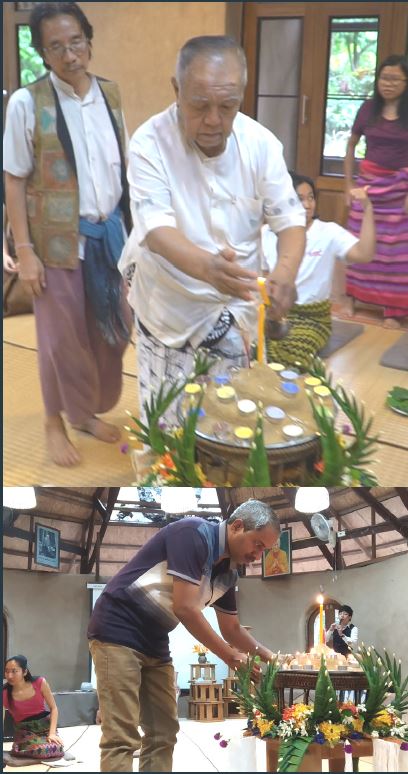 Opening Ceremony – 3rd September 2019
The opening ceremony was organized in a very simple way. The venue of the workshop was decorated by surrounding natural things like green leaves and colourful flowers. The candle lighting was done by Sulak Sivaraksa, founder of ALT program and Pracha Hutanawartr, Director of ALT Program. In his address Sulak said we have to accept three elements in our life – those are truthfulness, adaptation and passion for better society. Then Pracha, director of the ALT said " we are facing so many crises in the society and as a human beings we have to  awaken ourselves. In this program we learn from each other and from nature.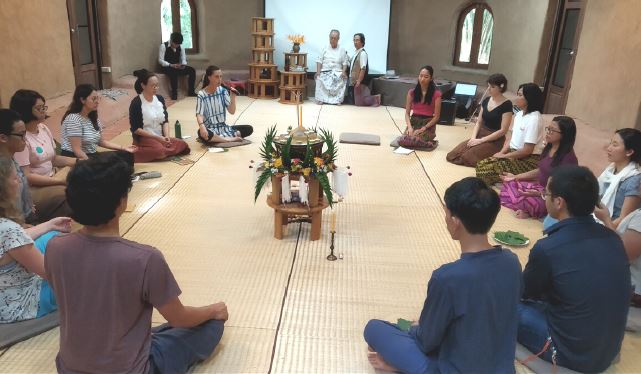 Building a Community of Good Friend – ( 4 – 5 September 2019 )
In this two days program participants gave support to each other and dialogued to co-create a body of knowledge together with facilitators. There were so many differences between participants like different background, country, class and knowledge but they came together, explored each other with lots of exercise and enjoyed the process. Participants learnt by such exercises like Duck walk, passing the coin, balancing each other etc. After each exercise participants sat collectively, brainstormed and discussed on what lesson they learnt? What were their feelings? And what were their observations? We found there was no competition but lots of cooperation, participants realising their own energy and together created new energy field. In these two days they became a good friends. The process was very simple and healthy to build a community.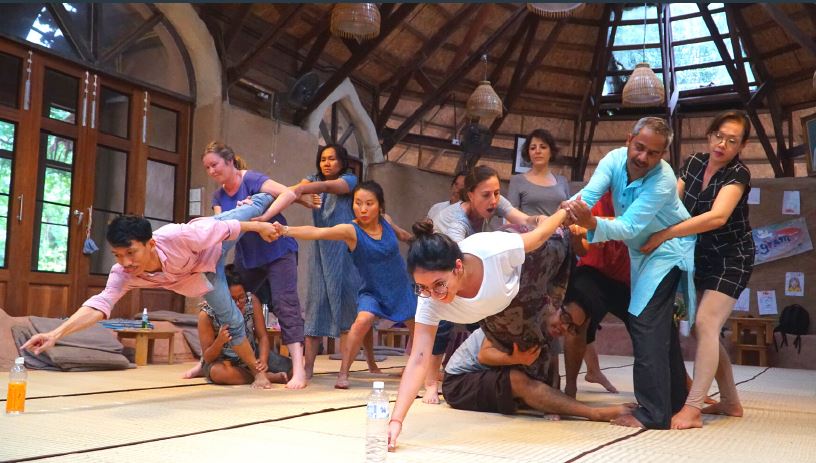 In this session Pracha explained the Pedagogy of the oppressed, based on the teachings of Paulo Freire which was as follows –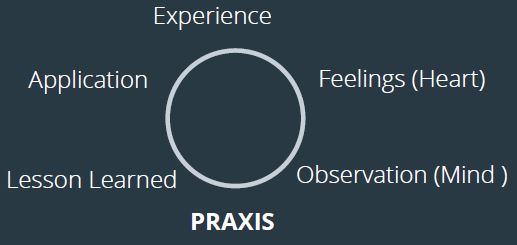 Slow is Beautiful: Ecological Wisdom from Asian Traditions during 6 – 9 September 2019
In this four days module on Slow is Beautiful facilitated by Dr. Prof Keibo Oiwa from Japan. He is an Anthropologist, environmental activist and professor in 'Meiji Gakuin University' in Japan from last 27 years. He is the founder of Sloth Club. He introduced about Sloth. Sloth is an animal of Japan and who looks like a monkey. Sloth he is very slow. Sloth has lots of meaning. Keibo said Sloth is slow, simple and beautiful. Slow is Beautiful. I understood that in this scenario human beings are very busy in their life at every moment. Sloth is slow, small and simple and if we can adopt these key concepts as a way of life then one could change our life. Keibo also introduced the perspective of global to local, from excess to enough, from competition to sharing and theft to gift. This concept would help us to grow in our life.
Keibo's wife, Mari Oiwa explained various features of culture of Japan. She also explained and demonstrated making of Green Tea Ceremony and Ikebana, Art of Flower Making.
All participants experienced 'The Green Tea making' process which they prepared and served others. The process of Green Tea Ceremony was inspiring – learnt to be patient. Then Mari introduces Ikebana and participants individually took active participation in this activity. They collected all the necessary material for Ikebana. Participants prepared and presented their art of flower arrangement (Ikebana) in front of each other. I learnt and experienced Japanese Culture and Art of Japan from Green Tea Ceremony and Ikebana.
MY LEARNING
I was inspired and motivated from Prof. Keibo. He is professor, Cultural Anthropologist, researcher, film maker, and environmental activist as well as who showed us the value of slowness and how to be a simple facilitator. He used important quotes, examples, photographs and documentary films in his presentation. Mari also demonstrated the value of slow. Her simple and beautiful way of facilitating the Art of Flower making. I enjoyed the session of Mari I also wrote few lines of Haiku. I liked the process of Ikebana very much and I made a different Ikebana and presented in the larger group.
Paradigm Shift and Emerging Cultural Values during 12 -16 September 2019.
In this session, Mr Pracha, Director of ALT and his team of Patra and Jesika facilitated the sessions on Paradigm Shift and Emerging Cultural Values. The session was designed and planned nicely. It was started at INEB, office Bangkok. The objective behind this module were to understand the intellectually shift of global values in the society and how its affect human being. In the first day Pracha, Director of ALT had talked about meditation and mindfulness.
MY LEARNING
We understand Meditation is 'Samatha' and 'Vipassana' In Samatha we should be calm, and be clear of the mind while in Vipassana we have to change our perspective. We need to remove our self centred approach and not to take things personally. Later on we understand the four foundations of the mindfulness that are, the Body, the Vedana, (means pleasant + unpleasant) the Mind, (emotions) and the Objects of the mind. In the first day we visited two different places in Bangkok city. First is Icon Siam, the very biggest shopping mall and second is Pet Pong, a red light area.
We visited the two places and discussed on the core values of each space and how paradigm has shifted in the society. We have seen major differences between shopping mall and red light area.
Later on we understand different worldviews of paradigm shifts. We brainstormed and discussed on other paradigm shift from very beginning to current values of the society. We understood basically the changes in the context of social,  conomic, psychological, political and cultural dimensions and its effects on our society. We are facing so many crises as human beings and we need to change our selves and accept the emerging new paradigm for better development of the society.
Firstly, I have faced some difficulties in understanding these various concepts of paradigm shifts like eastern, western, south, Asian etc. But when facilitator explained with diverse examples I began to understand. I was involved in intense discussions and presentations.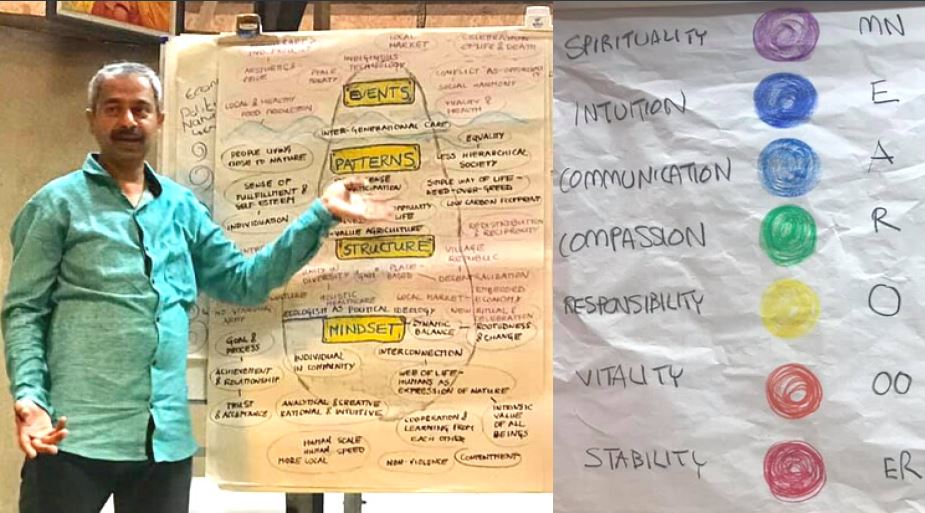 Wongsanit Ashram
Our accommodation was at Wongsanit Ashram. Wongsanit Ashram, which was founded in 1984 by social activist Sulak Sivaraksa and colleagues. The accommodation is built by natural construction techniques. It is a spiritual place and run by devoted community members. It is like an eco-village promoting an alternative lifestyle that is grounded in spirituality, cultural diversity and environmental sustainability. It is like a home to participants it is a practice to help us to enhance our leadership.
MY LEARNING AND REFLECTIONS
We are presently facing so many global crises but one is not sure how to address it. By adopting indigenous paradigm with western paradigm we can make some sense and bring balance in our lives. According to Gandhijis philosophy he always said that he was afraid of rapid industrialization because of its inherent character to exploit human labour and create competitors among themselves. This sessions helped me to understand the large ways in which western paradigm influence our society. It helped me to assess my needs and wants and after arriving at some clarity, I have tried to reduce my desires. I have reduced my greed and adopted simple life style for myself. As I was sure of my family which includes my parents who stay with me. I also appreciated my earlier habit of doing my own work whether I am home or away. It resonated with the new learning of practicing simple life style.
As facilitator, I have learnt new methodologies, new training exercises and ice-breaking activities. For instance, exercise called 'Duck Walk' which was about strengthening coordination and alertness among the participants. I have sharpened my observations skills especially related to I felt in certain level I have increased my conversation skill related to feeling the energy levels of the participants, noticing their state of mind, their slight movements, etc. At another level, being a native speaker, I wasnt too sure of my English-speaking skills. I used be conscious of my language and anxious about making mistakes. However, in Thailand, I had no choice and the daily habit of speaking, listening and informal conversation raised my confidence in English language as I was able to navigate smoothly.
Being a co-facilitator, I got the opportunity in planning and monitoring process of ALT program. This was important as I learnt to see how the flow of content was planned and its relation to enabling learning in the participants. I also shared my observation with my co-facilitators on its actual effect later in the day. I also learnt a few eastern philosophies especially the use of meditation practice in the workshop and seeing its effect.
As facilitator I tried to learn meditation process, its technique and I want to develop it further when I facilitate workshops in India and also at my work place in Abhivyakti. I am certain now that practicing meditation will definitely help my inner state but my leadership as well. One other thing that I learnt was about how community functions in a collective way from the daily life in the Ashram. The simple, reflective and peaceful living practice of the Ashram, listening to their prayers, eating ways (frugal meals) and living has made a deep impact on my thinking and behavior. The material life imposed on us as a natural form of growth is hallow which only dis-connects us from others and from humanity. It makes us selfish, and makes unnecessary demands on ourselves and also the environment. After realising the connection, I have started thinking of so many of my practices which needs further introspection and dialogue with my family members and colleagues. I plan to organise a small workshop with my office colleagues to share my reflections.
One other critical aspect was the less number of participants attending the workshop. There were only seven participants and sometimes it affected the workshop environment. Although the plus factor being that we all connected well, shared our perspectives and work-related matters deeply. The bond and relationship that developed was meaningful for me as I learnt a great deal from everyone especially how to live in alignment with our environment. I also contributed my experiences and training expertise whenever there was an opportunity and could see its impact. I had no previous experience of working in an international setting and facilitating any workshop outside India. This became possible through Ecoversity exchange programme. It has benefited myself and my organisation greatly. I value my time in Thailand which has shaped my way of thinking and actual behavior.
Once again I am very thank you to all.