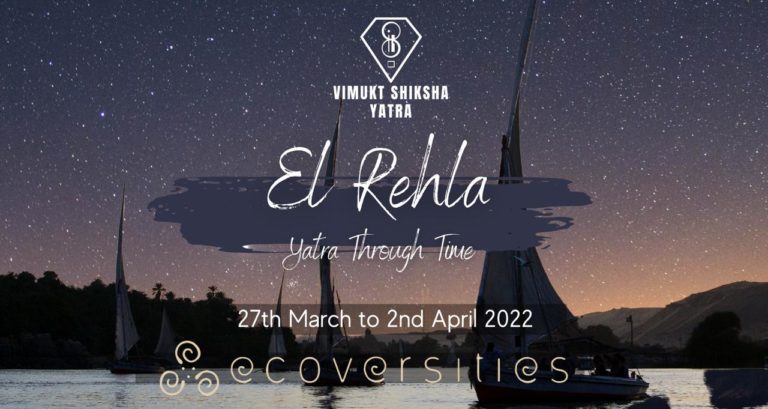 You are kindly invited to El Rehla – a one-week learning journey along Egypt's North Coast (Mediterranean Sea) via Cairo and the Oasis of Faiyum from March 27th to April 2nd. We will make stops and immerse in the coastal town of Marsa Matruh known for its lagoons and white sand beaches to connect with the sea and each other, continue to the historical porty city of Alexandria to learn about attempts to archive, preserve and translate Alexandria's history and fate as a 'sinking city' in the face of climate change, move on to Egypt's (for the time being) capital city of Cairo, notably Fatimid Cairo and the weste Cairene province of Giza with its pyramids, and round up our journey with a visit to the oasis of Faiyum, notably Tunis village known for its pottery and the Valley of the Whales known for the whale fossils found there. 
For any questions, please get in touch Karim Yassin, Harsh and/or Che-Vanni
Between eight and twelve participants would be ideal. Up to fifteen at most. It will allow us to move in three cars and be more flexible. We can also use West Delta bus, microbus or Swvl (app for small vans), and train from Alexandria to Cairo.

Educational

projects/

crafts

communities to visit/

natural heritage

sites: 

In Alexandria: (1) MASS Alexandria (art residency); (2) Gudran for Arts and Culture and Wikalet Behna (home to workshop on visual arts, translation and archival practice and birthplace of CILAS in Alexandria)

In Cairo: (1)

CILAS

(autonomous college with focus on de-centering and challenging Eurocentric knowledge production); (2)

Makouk

(collective designing educational board and card games in Egyptian Arabic increasingly with a focus on sustainability); (3)

Dawar Arts

(

​​

participatory theatre, therapeutic drama and other arts-based processes for healing, dialogue and societal transformation from the grassroots up). 

In Fayoum (Tunis village): (1) Evelyn's pottery school; (2) Fossil and Climate Change Museum in Wadi El Hitan (Valley of the Whales)
Proposed dates would be March 27th (right after gathering) to April 2nd (just before Ramadan) 

Leave Siwa on 27th for

Marsa Matruh

(three to four hour-ride) for one night, dinner upon arrival and film screening of Egyptian classic (possibly showing Marsa Matruh or other coastal village, e.g. Agamy or Montaza) to attune to Egypt's North Coast

March 28th starts with a day-walk along the

Mediterranean sea

after breakfast, getting to know each other better as Yatra participants in cars or on bus on our

way to Alexandria

to stay at

Crillon

guest house on Alexandria corniche (waterfront). Evening stories about learning initiatives/Ecoversity projects in the (1) Arab world and (2) on the African continent over dinner at Kalitho or Chez Gaby and drinks at Spitfire

March 29th breakfast at Crillon followed by visit to the outskirts of Alexandria to the fishing

village of El Max

(see

here

) for lunch with organiser/activist Heba Attia (possibility of honorarium) on Alexandria's heritage, boat ride along the canal and lunch at El Lol.

March 30th breakfast at Mohamed Ahmed (formerly Benjamin), visit and talk at

MASS Alexandria

(art residency) (if still operational), walk along corniche to Mansheya (near guest house) and visit of

Wekalet Behna

(birthplace of CILAS in Alexandria and home to Gudran for Arts & Culture) for a talk with founder Sameh on promoting (visual) arts, translation, Egyptian cinema and archival practice, late lunch at Abou Noura for Alexandrian seafood experience. Head to Cairo by car or train.

March 31st visit

Ramsees Wissa Wassef Haraniya School

during day followed by evening at CILAS with guest presentation by

Makouk and Dawar

followed by  dance party (TGI it's Thursday, i.e. the weekend)

April 1st, car ride to

Tunis Village in Fayoum

, visit

Evelyn's pottery school

and late lunch/early dinner followed by film screening, maybe Four Women of Egypt documentary, on

countryside

(different bio-region from coastal/Mediterranean, often associated with cosmopolitan Egypt)

April 2nd, visit to

Wadi El Rayan and Wadi El Haitan

(different bio-region, i.e. depression/desert) to visit

Fossil and Climate Change Museum

and magic lake for contemplation and reflection on Yatra,

head back to Cairo

for beginning of Ramadan
People staying on in Cairo (for the second part) can visit different museums, the pyramids to the west of Cairo (Giza, Sakkara, Dahshour), guided walking tour of Fatimid Cairo starting at CILAS, day-hike at Wadi Degla, guided walking tour of Belle Epoque Downtown, attend cultural events, such as Iftar (breaking of fast), musical performances, cafe culture, and Cairene nightlife during Ramadan in the streets. We can organize film screenings, jam sessions, and gatherings at people's homes, and go for a sunset falukka (sailboat) ride, among other things.