This year it's been a very complicated year and for many of us uncertainty has been part of this journey. With this in mind, we have designed this year's Global Gathering as a learning journey that supports us to embrace this madness of a year. The learning journey is going to be 3 days long and it will be a space for us to share our thoughts, our ideas, intentions, connections, our hearts, our voices and our spiritual connection that goes beyond physical encounters. 

Each day of the gathering will be grounded in an 'oasis' session – a session that will bring together in one space all participants – from all time zones and communities from around the world. The oasis will open a space of reflection about us as a network – what happened so far, what are the different activities/projects/working groups that we can interact with and what are our collective dreams, hopes and visions for the Alliance. 

In between the 3 oasis sessions, you´ll get a chance to listen/offer your gifts to others in "beduin stops" (Zoom sessions with a lot of imagination :p) to have some tea, make your camels drink some water, dance, enjoy conversations, etc).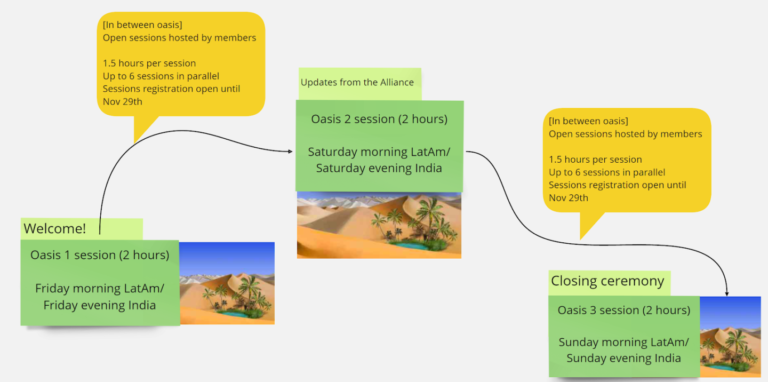 👉 Join the participants list!
Let us know you are planning to attend by adding your name and details in this sheet – knowing how many people intend to participate will allow us to prepare the event better. And, if it helps you, we can send the schedule of the event and latest information about the event directly in your inbox.
Sign up on Hylo!
Hylo is an open source social tool that supports networks such as Ecoversities to connect, share and keep in touch. We will use it during this gathering to post updates about the event, share learnings and capture ideas. Join the community – and start using it by filling in your profile. https://www.hylo.com/c/ecoversities/join/TA52IxIvqh