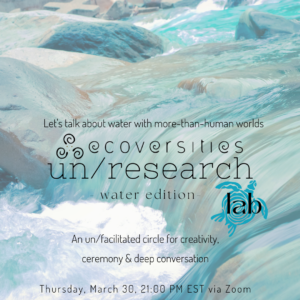 The Ecoversities Un/Research Lab is an un-facilitated virtual place for emergence and conversational yarn, an invitation to play and explore research in a world always becoming, where anything can happen. What does it mean for us to exceed research? to approach research in a relational manner? with curiosity and attention?
"The ecoversity is the milieu of the posthumanist researcher. By 'posthumanist researcher', I do not mean the philosopher trained in the art of thinking about the porosity of the human figure or the posthuman. And by 'researcher', I do not privilege the human gaze. By posthuman researcher, I refer to the crossroads of yet-to-be-named subject-objects; I mean to say that the world is so rich, so abundant, that to suppose we are the only ones entranced by this wonder is to perpetuate a kind of blindness that is especially problematic today; I mean to draw attention to wider and wilder coalitions we have always been a part of; I mean to say trees, cetaceans, and bacterial communities living as immigrant ecosystems in human guts are conducting research of their own; I mean to nod in the direction of ancestors lingering in the hauntological sites of our furniture and exotic/monstrous bodies that disturb the fixity of what it means to be human; I mean to sing to a world that is more-than-world, more-than-knowing, more-than-being, always-becoming." – Bayo Akomolafe
This invitation is inspired by The Myth of the Gilded Researcher, a piece which Bayo Akomolafe wrote about the ecoversities. The format of this call is participatory, plural, other, with the intention of hosting emergence, silence, and deep conversation. About research but not only. If there is an specific topic you wish to explore or research together, you can express your interest through this form.
*We are meeting bi-weekly to have these conversations, the next meeting is on Thursday March 30th at 18:00pm PST, with a water focus*
The zoom link is:  https://us02web.zoom.us/j/84928490320
Please add our new calendar to your google calendar, to be in touch about future events and offerings across the Ecoversities Network.
Hope we can partly coincide!