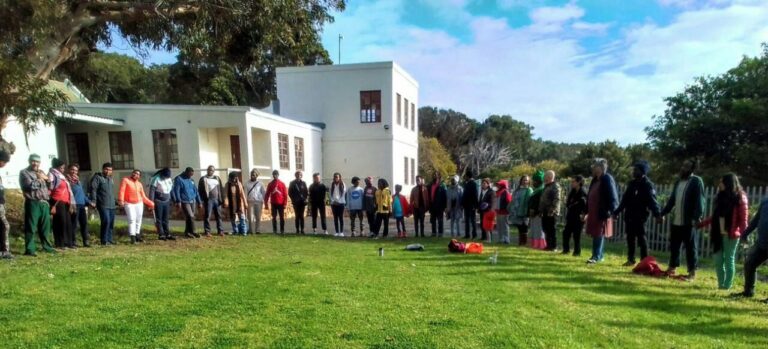 Ecoversities Planetary Gathering VII: South Africa
In June 2023, the Ecoversities Alliance was received by Cape Town, South Africa for the VII Global Gathering, re-uniting a multiplicity of voices and rhythms from local communities to people from all parts of the world, people who are re-imagining education from their territories, curious about their own relationships with learning, towards decolonisation and the reclamation of their ways of being and kinship with their roots, ancestors, and the Land.
"This was my first gathering with the Ecoverse. I may have have had an idea of what the gathering would be like or had some sort of expectation... but oh boy i got more than i bargained for, it went so deep... my mind, body and soul. I kept mentioning just how the universe had gathered all my people in one room and make this whole gathering about me, it felt like this was tailor made just for me, I have not had a connection so pure and deep with myself in a while, if ever. I am motivated, alive, restored, inspired, I am cleansed, connected and loved, the trust and live of self is on the other levels. It's still so hard to explain to people who were not at the Gathering just how and what went in, I am feeling like a whole new being ,ready to carry the spirit of the Ecoverse with me in every step. This sort of experience only happens once in green moon in one's life and it sure is going into my book. I am filled with gratitude and I cannot wait to one day sponsor someone to receive this sort of love that is boundless, unconditional and pure. It was magical in every single way. I was mostly captivated by song and dance. The Indigenous language from the San and Khoe people, I didn't understand it physically but I felt the goosebumps with every click of the tongue. I had a water ceremony which was the highlight of the entire gathering, I was surrounded by Power in The Mother form, I was not planning a story of such Magnitude, truly a blessing to have experienced this. I also had a chance to share my gift as a chef and healer in the kitchen, it was love surpassing all understanding for me. Connecting with like souls, related souls across the oceans, it only affirmed and confirmed that we're real, what we feel, is real, the spirit world is very real..."
"As an Indigenous Scholar, I was encouraged to attend Ecoversities because it addressed the issue of unlearning and reconnecting our sense of spirituality. During the conference sessions, I felt that people were saying exactly what I had been speaking and thinking about for so many years. I stopped my PhD studies because I started wondering why I was seeking an accolade from the very institutions that made me feel a lesser and worthless being. During our Micro-Gathering, Manish spoke about this. The nature of the Ecoversities conference made me feel valued, respected and people actually found me interesting. I felt no reason to disbelieve them and my inner critic was silent. The sessions felt like group therapy sessions, supportive and uplifting. I felt a strong sense of commune, mutual respect and love in which I was able to share my experience of growing up and feeling ashamed of myself and my African Indigenous heritage. My anccestors were highly honoured in the Sunrise Ceremonies, the Water Ceremony and the gathering of culinary plants in the area. Needless to say, I shared copious amounts of tears of joy, recognition and some for pain."
"The Ecovesity gathering was an ahaaaaa moment, It made me to realise who I'm from body, mind and spirit. I was able to appreciate who I'm as an African and to have a deeper meaning of who are we as African and to realise that the time is now for us to answer all the questions that we have as l realise that what ever the question, that l / we have we have the answers. I appreciated the simplicity of allowing the process to lead us and allowing ourselves to human being. I have witnessed humanity through dancing, love, joy and kindness from kids to elders. The alliance is playing a pivot role in allowing human to practice humanity through allowing ancient practice, through allowing kids to explore themselves and youths to be who they are it was such a profound process and to me l felt l was practicing life. Asate Sana So what was interesting for me was remembering and honouring our African Ancestral rituals which was for me powerful and a moment of unlearning and allowing our Ancestors to be in this journey with us. The alliance evolving and creativity of allowing open spaces in order to go deeper listening to stories which is our of our profound traditional indigenous method of learning. Being in a Chaotic journey of learning with have representatives to share their stories not of their learning but living experience and practice humanity . The process of having intergenerational in learning together living no one behind this is the journey that we need to nature so that we unlearn together with our future generation."
"I'm originally from Johannesburg but am based in Cape Town, South Africa, working as part of the Women of Waqf Futurist Collective. I entered the Ecoversities Alliance Planetary Gathering excited by the prospect of meeting and building relationships with people from different parts of the world with a shared desire to re-imagine our ways of learning and being. I came to appreciate the value of being with people who spoke the same language of co-creation and were thus rooted in deep, shared intentionalities. I was touched by the ways in which this community held space for one another; by the tenderness, warmth, generosity, and openness that everyone embodied. I really appreciated the space that we were afforded to make offerings from the different faith traditions which we brought to the gathering. Not only did this allow us to relate the themes of our learning to the traditions that have enriched our lives, but it also created opportunities for us to learn from others about traditions to which we may not have been exposed otherwise. This openness to sharing and the respect shown towards Indigenous practices stood out as being quite distinct from secular humanist modes of learning that may negate or relegate such practices to the margins of the learning experience. Between cooking together, listening to the stories of youth and elders alike, and visiting sites in and around Cape Town in which Ecoversities principles were being applied, there were many highlights that stood out from the experience. One of the most significant unlearnings that I experienced was to surrender the desire for pedagogical control, and to embrace the prospect of shared learning rooted in gift culture; to recognize that pedagogy extends to our ways of holding space for one another and for the histories, cultures, and narratives that we bring to every learning encounter. I'm excited to continue weaving alongside the new friends we made through this gathering, InshaAllah."
"The Planetary Gathering was an expansive moment, and a place on the wounded soil of what is currently known as Cape Town, where folks from across the earth converged to try and practice the possibilities for how learning and life might dance to many rhythms. I experienced it as a whole-body immersion of honouring, messiness, opening, pain, healing, questioning. We centred ritual and food and fire to guide our sharing. It was a challenging space to be in; also a very welcoming one, across the generations. I was especially moved by the appreciation circle. It felt healing to receive people's words of 'I see you'. And offering such words to others - even to those i had hardly met - felt like releasing little gifts of joy into the world. I came away with no sense of a neat ending or any clear answers at all. I carried with me a sense of connectedness, more inner entanglement, deep gratitude and renewed intention to meeting life and learning as daily practice"
"I arrived in Cape Town with wounds in my feet and thorns in my heart. But soon, with joyful chants and magical dances, thorns stared to came out and my feet continued to heal with the careful indigeous medicine people offered me from their territories. The sense of unrootness which I have been experimenting for so long got unmasked with the powerful and ancient energy of the mountains and the sea and the fact that I was walking in the mother land. Plus getting to know deeply Q7 an indigeous african healer surprised me with the amazing syncronization that we both are studying the healing energy of the plants and its sacred geometry. This encounter still nurturing my perspective as an apprentice of healing and enriches my labor with youth. My first global gathering and first trip in 10 years since I became a mother had catalized a deep understanding of myself as a racial mixed person with thirst of decolonization, as a south american with a deep connection with all southern cultures longing for ancestral spiritual roots and of a woman dancing with natural cycles and healing art along with a precious constellation which is ecoversities that is nursery of seeds of hope, focus and evolution of self and collective paths."
"The gathering was a meddly of many experiences and affirmations wrapped in one. It was a flow of storytelling, reality checks, reawakening and connections. Spiritual and physical.  The location added to the beauty of the learnings albeit with painful reminders of historical fences.  I was touched by the water ritual, Edgard's reminder about "for every question, community is the answer", the challenge facing indigenous people and the Noara people in particular, Mme Visolela and Q's ritual dance and chant, attending the Friday Muslim prayer with Aasif, breathworks session with Sami, the affirmation circles at the end of the gathering, the gifts of wrist bands and the many story tellings. My biggest take away are the possibilities to co-recreate collaborations with local and translocal ecoversity initiatives. Overall, the gathering was magical and rejuvenating."
"As a movement I feel there are nameless forces moving and shaping us. Every year a territory calls us, granting a new initiation and gifting us with its essence and stories. Every gathering creates portals, potential caldrons of alchemical healing and transformation, to our embodied individual selves, to our collective constellation of people and places and to something much bigger and mysterious – which I like to think of as the cosmic dance of consciousness.
This year we gathered in Cape Town, the Southernmost tip of Africa, with stunning mountains, powerful winds, and the ocean in front of us where we could see the sun and the full moon rising and feel Odoya's blessing. Where we were also silenced by the pain of ongoing colonial violence, by the multitude of voices drowned at sea and ripped from their families and land. We gathered in a territory that reverberates beauty and strength but also segregation and oppression.
The word that kept coming to me was "primordial", a raw, powerful, fiery, feminine energy that can combust and create a whole universe (or destroy it!). The land and the people took us on a journey of ancestral wisdom, rewilding every particle of our bodies… and our bodies remembered their essence and their original home. We reached towards the cosmological dream mythology that reintegrates us into the truth of ourselves and with the tapestry of life. We were embraced by songs and nourished by delicious food.
People that are totally new to the Ecoverse were saying there was something "magic" about the gathering and the Alliance. For me, the landscape of magic is mossy and unsettling. It can be full of light and rooted in our interconnectedness. The perception of a multitude of synchronicities, when our imagination taps into this sublime communal act of creativity that sparks sense-making. When our souls re-encounter old friends and the warmth of the fire is felt.
But magic is also the realm of the "hidden", the underworld, when we dive deep into the dense and dark mystical realm. This is where I met my sisters – shapeshifters, witches, enchantresses, sangomas. We danced, we laughed, we listened, we howled at the moon and held hands to cross thresholds, liminal spaces that brought about a new sense of self awareness, a deeper understanding that drenched our consciousness in spiritual insight and untamed energy. It reminded me of a poem/sutra:
Rivers of power flowing everywhere.
Fields of magnetism relating to everything.
This is your origin. This is your lineage.
The current of creation is right here,
Coursing through subtle channels,
Animating this very form.
Follow the gentle touch of life,
Soft as the footprint of an ant,
As tiny sensations open to vastness.
Power sings as it flows,
Electrifies the organs of sensing,
Becomes liquid light,
Nourishes your entire being.
Celebrate the boundary
Where streams join the sea,
Where body meets infinity.
Radiance Sutras, 44
I had a sense we were going to South Africa to be healed but what it become clear during the gathering is that we were there to become healers. Each of us rooted in our communities/territories/lineages, connected to the gifts we came to share in service of life and to receive the strength and accompaniment needed to step fully and fearlessly into our path. I'm excited to see what comes next… how the new people and the spirit of Cape Town will shape this beautiful, warm and emergent being that is the Ecoversities' movement." – Bianca Suyama, Brasil

Obligation
Visolela with visions and visionaries from Namibia
Manish and merry band – India
Yeyo and others Mexico
A gorgeous multi-generational group from Brazil
Ana who sings with the baby clinging to her like a banana peel
The list goes on and on and on
Many old and new friends
Most transcendent indigenous drummers
flung me through multiverses
intertwined like curly hair
where I meandered without helmet seatbelt checkedluggage
arms dancing silk ribbons in a breeze
eyelids faithfully shut
enormous ovoids glowing on upturned palms
miniscule me merged with all of creation
Maitreya whispered in my ear to the beat of the drums and feetfall on floor
"I am the light
The light is me
I am expanding"
My mad mama with her visions voices angels' offerings,
"patience is a virtue"
Finally
imminent dawn
of compassion
and justice
And i
at last
can be
eternally
Free
Bernedette Muthien
13 June 2023
Ecoversities Global Gathering Cape Town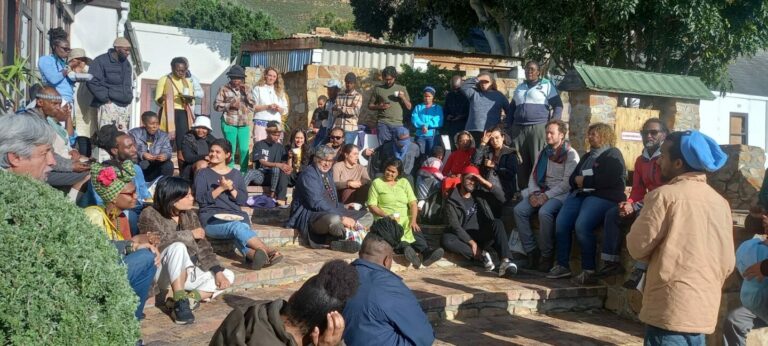 VII Encuentro Planetario de la Alianza de las Ecoversidades: Sudáfrica 2023
En Junio del 2023, la Alianza de las Ecoversidades fue recibida por la Ciudad del Cabo, Sudáfrica para el VII Encuentro Global, fue una re-unión con una multiplicidad de voces y ritmos entre gente de las comunidades locales y aquellos de otras partes del mundo, quienes están re-imaginando la educación desde sus territorios, curiosos sobre sus propias relaciones con el aprender, rumbo a la descolonización y la reclamación de sus maneras de ser y relacionarse con sus raíces, ancestros y la Tierra.
"Este fue mi primer encuentro con el Ecoverso. Puede que haya tenido una idea de lo que este encuentro sería o tenía alguna clase de expectativa… pero oh querido fue más de lo que había apostado, fue tan profundo… en mi mente, cuerpo y alma. Seguía mencionando cómo el universo había reunido a toda mi gente en un sólo salón y hecho este encuentro sobre mi, se sintió cómo sí hubiera sido hecho a mi medida, nunca había tenido una conexión tan pura y profunda conmigo en mucho tiempo, si acaso jamás. Me siento motivada, viva, restaurada, inspirada, me siento limpiada, conectada y amada, la confianza y la vida de mi ser está en otros niveles. Todavía me resulta muy difícil de explicarle a las personas que no se encontraban en el encuentro cómo fue y qué ocurrió, estoy en un sentimiento de un nuevo ser, lista para cargar el espíritu del Ecoverso con cada uno de mis pasos. Este tipo de experiencia sólo pasa una vez cada luna verde en la vida de uno y estoy seguro será añadida a mi libro. Estoy llena de gratitud y no puedo esperar al día donde pueda apoyar a alguien para que reciba este amor que no tiene fronteras, que es incondicional y puro. Fue mágico en todas sus formas. Me sentí cautivada por la canción y la danza. La lengua indígena de los pueblos San y Khoe, no la entendí físicamente, pero reverberó en mi piel a cada chasquido de su lengua. Acontecí una ceremonia de agua que fue mi parte favorita del encuentro. Estaba rodeada por Poder en la forma de La Madre, no había planeado una historia de tal Magnitud, fue una verdadera bendición haber experimentado todo esto. También tuve la oportunidad de compartir mi regalos como chef y curandera en la cocina, para mi fue amor que supera todo entendimiento. Conectando con almas similares, almas relacionadas a través de océanos, sólo afirmo y confirmo que somos reales, lo que sentimos, es real, el mundo espiritual es muy real…"
Fuí motivada a asistir al encuentro de Ecoversidades porque tocaba el tema del desaprendizaje y la reconexión con nuestra sensación de espiritualidad. Durante las sesiones de la conferencia, sentía que la gente hablaba exactamente de aquello de lo que yo había vivido y pensado por tantos años. Detuve mis estudios del doctorado porque comencé a preguntarme por qué buscaba un acolado de las propias instituciones que me habían hecho sentir un ser menos y sin valor. Durante el micro-encuentro, Manish hablo de esto. La naturaleza de la conferencia de Ecoversidades me hizo sentir valorada, respetada y la gente de hecho me encontró interesante. No había razón para no creer en ellas y mi critica interna estaba en silencio. Las sesiones se sintieron como sesiones de terapia en grupo, que te apoyan y suben el ánimo. Sentí una sensación de comunión, respeto mutuo y amor donde era capaz de compartir mis experiencias de crecer y haberme sentido avergonzada de mi misma y mis raíces africanas indígenas. Mis ancestros fueron honrados en las ceremonias de la salida del sol, en la ceremonia de agua y en la recolección de plantas silvestres culinarias en el área. No hace falta decirlo, sentí inmensas cantidades de lágrimas de alegría, de reconocimiento y algunas de dolor. Doy las gracias
El encuentro ecoversitario fue un momento de ahaaaaaa, me hizo darme cuenta que soy del cuerpo, de la mente y del espíritu. Fui capaz de apreciar quién soy yo como Africano y tener un significado más profundo de quiénes somos como Africanos y darnos cuenta de que es el tiempo para nosotros para responder todas las preguntas que tenemos a medida me doy cuenta que para toda pregunta que yo / nosotros tenemos, las respuestas están con nosotros. Aprecie la simplicidad de dejar que el proceso nos guíe y nos permitió mostrarnos como seres humanos. Acontecí la humanidad a través del baile, del amor, la alegría y la amabilidad de niños a abuelos. La alianza está jugando un rol crucial al permitir al humano practicar su humanidad al facilitar las prácticas ancestrales, lo que permite a los niños y a los jóvenes explorar y ser ellos mismos Fue tan profundo que sentí que estaba practicando la vida. Asate Sana. Para mí lo más interesante fue recordar y honrar nuestros ancestrales rituales africanos, que fueron momentos muy poderosos de desaprendizaje y dieron cabida al acompañamiento de nuestros ancestros en esta travesía. La evolución de la alianza y su creatividad permiten espacios abiertos que permiten un escuchar más profundo a las historias que son nuestro método tradicional indígena de aprendizaje. Estar en este viaje caótico con personas que comparten sus historias, que representan no su aprendizaje sino más bien su experiencia vivida y práctica de humanidad. Este proceso de ser intergeneracional en nuestro aprender, todos juntos sin dejar a nadie atrás, es la travesía que necesitamos cuidar para que desaprendamos juntos con las futuras generaciones.
Originalmente soy de Johannesburgo, pero ahora me encuentro en Ciudad del Cabo, Sudáfrica, trabajando como parte del Women of Waqf Futurist Collective (Colectivo Futurista de las Mujeres de Waqf). Entré al Encuentro Planetario de la Alianza de las Ecoversidades, emocionada por el prospecto de encontrarme y construir relaciones con gente de diferentes partes del mundo con un deseo compartido de re-imaginar nuestros modos de aprender y de ser. Llegué a apreciar el valor de estar con gente que hablaba el mismo lenguaje de co-creación y por lo tanto enraizadas en profundas intencionalidades compartidas. Me tocaron las formas en las cuales la comunidad brindó espacio para el uno y el otro; la suavidad, el cariño, la generosidad y la apertura que cada uno encarnó. Aprecié mucho el espacio que fue dedicado a hacer ofrendas desde distintas tradiciones de fe. No sólo nos permitió relacionarnos con los temas de nuestro aprendizaje a las tradiciones que han enriquecido nuestras vidas, sino que también creó oportunidades para que aprendiéramos de los otros sobre las tradiciones que quizás de otra manera no nos hubiéramos dado cuenta de que estaban ahí. Esta apertura al compartir y el respeto mostrado hacía las prácticas indígenas, me pareció un poco distinta de los modos humanistas seculares de aprendizaje que pueden negar o relegar estas prácticas a los márgenes de las experiencias de aprendizaje. Entre cocinar juntos, escuchar las historias de los jóvenes y abuelos, y visitar lugares dentro y alrededor de Ciudad del Cabo, en donde los principios de las Ecoversidades estaban siendo aplicados, hubo muchos momentos destacables que sobresalen de esta experiencia. Uno de los más significantes desaprendizajes que experimente fue aquel de rendirnos al deseo por el control pedagógico y abrazar el prospecto de un aprendizaje compartido enraizado en la cultura del regalo; para reconocer que la pedagogía extiende nuestras maneras de sostener espacio para el otro y para las historias, culturas, narrativas que podemos brindar a cada encuentro de aprendizaje. Estoy emocionada por seguir tejiendo junto con los nuevos amigos que hicimos durante este encuentro, InshaAllah.
El Encuentro Planetario fue un momento expansivo, desde el suelo herido de lo que hoy es conocido como Ciudad del Cabo, donde amigos de toda la Tierra convergieron para intentar y practicar las posibilidades de cómo el aprendizaje y la vida podrían danzar a muchos ritmos. Lo que experimenté fue una inmersión de cuerpo completo para honrar el preguntarnos, desde lo caótico, desde la apertura, el dolor y la sanación. Centramos el ritual y la comida y el fuego para guiar nuestro compartir. Fue un espacio con muchos retos; y también uno que nos dio la bienvenida, atravesando generaciones. Me sentí especialmente movida por el círculo de apreciación. Sentí la sanación de recibir las palabras de las personas 'Te veo'. Y ofrecer dichas palabras a otros - incluido para aquellos quienes apenas había conocido - se sintió como obsequiar estos pequeños regalos de alegría al mundo. Salí no con una sensación de un final bonito o respuestas claras. Me llevé conmigo una sensación de conexión, de estar tejidos internamente, una inmensa gratitud e intención renovada para encontrarme con la vida y el aprendizaje como prácticas diarias.
"Llegué a Ciudad del Cabo con heridas en mi pie y espinas en mi corazón. Pero pronto, con rezos alegres y mágicos bailes, estas espinas comenzaron a salir y mis pies continuaron a sanar con la cuidadosa medicina indigena que la gente me ofreció desde sus territorios. La sensación de no tener raíces que he experimentado por tanto tiempo fue revelada con la poderosa y ancestral energía de las montañas y del mar y por el hecho de que caminaba en la Tierra Madre. Además, la oportunidad de conocer profundamente a Q7, una curandera indígena africana me sorprendió con la asombrosa sincronicidad de que ambas estemos estudiando la energía sanadora de las plantas y su sagrada geometría. Este encuentro aún está nutriendo mi perspectiva como una aprendiz de sanación y enriquece mi trabajo con lxs jóvenes. Mi primer encuentro global y el primer viaje en 10 años desde ser madre, ha catalizado en mi un profundo entendimiento de ser una persona mestiza con sed de descolonización, como una sudamericana con una profunda conexión con todas las culturas del sur, que anhela sus ancestrales raíces espirituales y de mujer que baila a los ciclos naturales y las artes sanadoras junto con una preciosa constelación de la cual Ecoversidades es el vivero de las semillas de esperanza, enfoque y evolución del sí mismo y sus caminos colectivos.
Este encuentro fue un popurrí de muchas experiencias y afirmaciones envueltas en una. Un río de narraciones, verificaciones de realidad, de despertares y de conexiones. Espirituales y físicas. El lugar añadió a la belleza de los aprendizajes con recordatorios dolorosos de cercas históricas. Fui tocado por el ritual de agua, el recordatorio de Edgard sobre "para cada pregunta, la comunidad es la respuesta", el reto de encontrarnos con los pueblos indígenas, el pueblo Noara en particular, las danzas rituales y rezos de Madame Visolela y Q, la asistencia a la oración musulmán del viernes con Aasif, las sesiones de trabajos de respiración con Sami, los círculos de afirmación al final del encuentro, los regalos cómo las pulseras y muchas más historias. La lección más grande que llevo conmigo son las posibilidades para co-recrear colaboraciones con iniciativas locales y translocales de ecoversidades. En general, el encuentro fue mágico y rejuvenecedor. Bendiciones y saludos.
"Como movimiento siento que hay fuerzas sin nombre moviendonos y formandonos. Cada año un territorio nos llama, dandonos una nueva iniciación y obsequiandonos su esencia e historias. Cada encuentro crea portales, potenciales calderos de transformación y alquimica sanación, para nuestro ser individual que encarnamos, para nuestra colectiva constelación de personas y lugares y para algo más grande y misterioso – que me gusta pensar como la danza cósmica de consciencia.
Este año nos reunimos en Sudáfrica, en la punta más austral de Africa, con impresionantes montañas, vientos poderosos, y el océano frente a nosotros donde podiamos ver el sol y la luna llena emerger y sentir la bendición de Odoya. Donde eramos silenciados por el dolor de la violencia colonial todavía latente, por la multitud de voces hundidas en el mar y arrancadas de sus familias y tierra. Nos juntamos en un territorio que reverbera belleza y fuerza pero también segregación y opresión.
"Primordial" fue la palabra que venía a mi, visceral, poderosa, feroz, energía femenina que puede combustionar y crear un universo entero (¡o destruirlo!). La tierra y la gente nos llevaron a una travesía de saberes ancestrales, reforestando cada partícula de nuestros cuerpos… y nuestros cuerpos recordaron su esencia y su hogar original. Fuimos hacía la mitología del sueño cosmológico que nos reintegra a la verdad de nosotros mismos y el tapiz de la vida. Fuimos abrazados por canciones y nutridos por comida deliciosa.
Gente completamente nueva al Ecoverso nos decía que había algo "mágico" sobre este encuentro y sobre la Alianza. Para mi, el paisaje de la magia está cubierto de musgo, es inquietante. Puede estar lleno de luz y estar enraizado en nuestra interconectividad. La percepción de una multitud de sincronicidades, cuando nuestra imaginación toca este acto comunal sublime de creatividad que manifiesta la creación de sentido. Cuando nuestras almas se vuelven a encuentrar con viejos amigos y se llega a sentir la calidez del fuego.
Pero la magia también es el reino de lo "escondido", del inframundo, cuando nos sumergimos en lo profundo hacía el denso, místico y oscuro reino. Aquí es donde me encuentro con mis hermanas – cambiadoras de forma, brujas, hechiceras, sangomas. Bailamos, reimos, escuchamos, aullamos a la luna y nos tomamos de las manos para atravesar adversidades, espacios liminales que trajeron una nueva sensación de consciencia de sí mismo, un entendimiento más profundo que empapó nuestra consciencia con una visión espiritual y energía sin domar. Me recordó a un poema/sutra:
Rivers of power flowing everywhere. (Ríos de poder fluyen por todas partes)
Fields of magnetism relating to everything. (Campos de magnetismo relacionan todas las cosas
This is your origin. This is your lineage. (Este es tu origen. Este es tu linaje.)
The current of creation is right here, (La corriente de la creación está aquí mismo)
Coursing through subtle channels, (Persigue canales sutiles)
Animating this very form. (Anima esta forma propia)
Follow the gentle touch of life, (Sigue el tacto gentil de la vida)
Soft as the footprint of an ant, (Suave como la huella de una hormiga)
As tiny sensations open to vastness. (A medida pequeñas sensaciones se abren a la vastedad)
Power sings as it flows, (El poder canta mientras fluye)
Electrifies the organs of sensing, (Electrifica los órganos de la sensación)
Becomes liquid light, (Se convierte en luz líquida)
Nourishes your entire being. (Nutre todo tu ser)
Celebrate the boundary (Celebra el borde)
Where streams join the sea, (Donde los ríos se unen al mar)
Where body meets infinity. (Donde el cuerpo se encuentra con la infinidad)
Sutras Radiantes, 44
Tenía la sensación que iríamos a Sudáfrica para ser sanados pero durante el encuentro se volvió evidente que estábamos ahí para volvernos sanadores. Cada uno de nosotros está enraizado en nuestras comunidades/territorios/linajes, conectados a los regalos que venimos a compartir al servicio de la vida y a recibir la fuerza y el acompañamiento requeridos para ingresar completamente y sin miedo en nuestro camino. Estoy emocionada por ver lo que viene después… cómo la nueva gente y el espíritu de Ciudad del Cabo van a moldear este bello, cálido y emergente ser que es el movimiento de las Ecoversidades." – Bianca Suyama, Brasil
Visolela con visiones y visionarios de Namibia
Manish y su bandita alegre – India
Yeyo y otros México
Un hermoso grupo multi-generacional de Brasil
Ana que canta con el bebe agarrado a ella como una cáscara de platano
La lista continua y continua y continua
Muchos viejos y nuevos amigos
Los bateristas indígenas más trascendentales
me hicieron volar a través de multiversos
entrelazados como cabello chino
donde deambule sin casco ni cinturon de seguridad

brazos danzando moños de cera en una brisa
párpados cerrados con fe
enormes ovoides que brillan en manos levantadas
minúscula yo mezclandose con toda la creación
Maitreya me susurró al oído al ritmo de los tambores y las pisadas del suelo
"Soy la luz
La luz soy yo
Me estoy expandiendo"
La mama loca con sus visiones voces y ofrendas angelicales, 
"paciencia es una virtud"
Finalmente
amanecer inminente
de compasión
y justicia
Y yo
por fin
puedo ser
eternamente
Libre
Visolela with visions and visionaries from Namibia
Manish and merry band – India
Yeyo and others Mexico
A gorgeous multi-generational group from Brazil
Ana who sings with the baby clinging to her like a banana peel
The list goes on and on and on
Many old and new friends
Most transcendent indigenous drummers
flung me through multiverses
intertwined like curly hair
where I meandered without helmet seatbelt checkedluggage
arms dancing silk ribbons in a breeze
eyelids faithfully shut
enormous ovoids glowing on upturned palms
miniscule me merged with all of creation
Maitreya whispered in my ear to the beat of the drums and feetfall on floor
"I am the light
The light is me
I am expanding"
My mad mama with her visions voices angels' offerings,
"patience is a virtue"
Finally
imminent dawn
of compassion
and justice
And i
at last
can be
eternally
Free
Bernedette Muthien, Ciudad del Cabo